COATING AND ENHANCED PHOTOCURRENT OF VERTICALLY ALIGNED ZINC OXIDE NANOWIRE ARRAYS WITH METAL SULFIDE MATERIALS
Michael Volokh, Department of Chemistry and Ilse Katz Institute for Nanoscale Science and Technology, Ben-Gurion University of the Negev, Beer-Sheva, Israel


Hybrid nanostructures incorporating different semiconductors are important for energy-related applications such as photovoltaics, water splitting, catalysis, and batteries. We describe a synthetic method that combines ZnO nanowire (NW) templates with metal-sulfide shells to create hybrid nanostructures. We use a gas-phase approach to achieve controlled filling and coating of the ZnO NWs with a high-quality polycrystalline metal-sulfide shell. Under atmospheric pressure, we heat single-source precursors, thus keeping the synthetic temperatures relatively low.

To the best of our knowledge, this is the first time such an approach is used to create hybrid structures of ZnO NWs covered with a varying thickness of a metal-sulfide shell. Using different precursors allowed us to synthesize multi-component structures such as NWs coated with alloy-shell 
or multishell structures.

Herein, we present the synthesis and 
structural characterization of the different structures. Furthermore, a photoelectrochemical characterization and a photovoltaic response of the ZnO−CdS system is presented, where the resulting photocurrent upon illumination indicates charge separation at the interface, as expected from a type-II band alignment.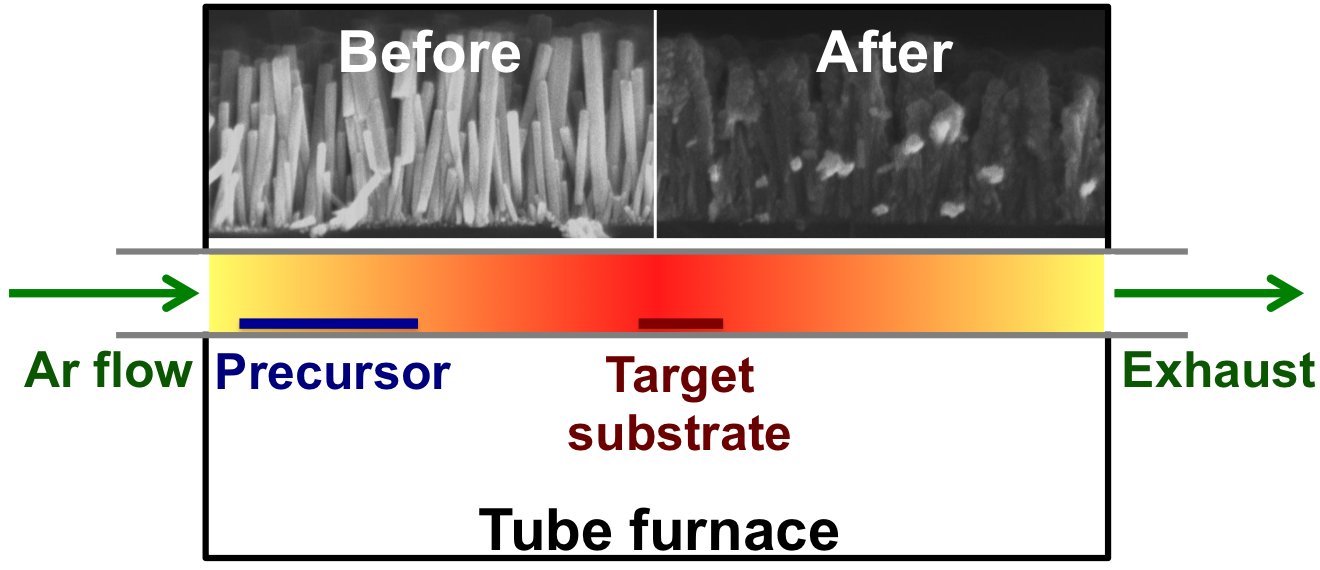 Ref: M. Volokh et al., ACS Appl. Mater. Interfaces 2014, 6, 13594−13599 dx.doi.org/10.1021/am502976v