Dual-Functional Semithio-bambusurils
Mandeep Singh, Department of Natural Sciences, The Open University of Israel, Ra`anana, Israel
Ephrath Solel, Schulich Faculty of Chemistry, Technion – Israel Institute of Technology, Haifa, Israel
Ehud Keinan, Schulich Faculty of Chemistry, Schulich Faculty of Chemistry, Haifa, Israel
Ofer Reany, Department of Natural Sciences, The Open University of Israel, Ra`anana, Israel


Glycoluril is used as a rigid building block for the assembly of various supramolecular objects including the known cavitands named cucurbiturils (CBs). CBs bind neutral molecules and gases within their hydrophobic cavity while the portal carbonyl groups operate in concert to strongly bind a broad variety of cations. Recently, a new family of macrocyclic molecules known as bambusurils (BU's) have been prepared from N,N-alkyl glycoluril building block. The bambusuril's interior acts as anion receptor whereas little is known about the binding properties of their portals.
Here we describe for the first time a new family of macrocyclic host molecules using N,N-methyl semithio-glycoluril as building block. These cavitands we named semithio-bambusurils have been prepared by a convenient, scalable synthesis. The incorporation of sulfur atoms within the framework of BUs has proven rewarding. Thus, semithio-BUs have shown double functionalities: they strongly bind a broad variety of anions in their interiors and metal ions at their sulfur edged portals.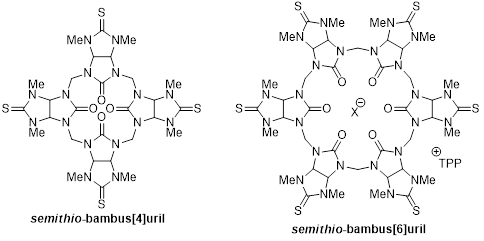 [1] This study was recently published: Mandeep Singh, Ephrath Solel, Ehud Keinan and Ofer Reany* Chem. Eur. J. Early view, DOI: 10.1002/chem.201404210.